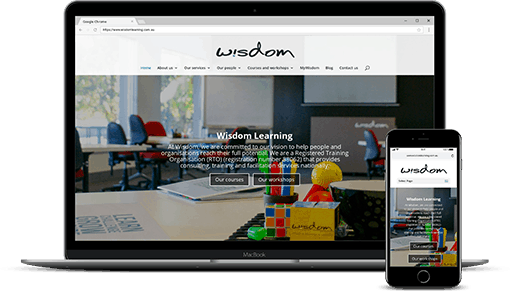 Wisdom Learning website
Project details
Created: July, 2018
Style: Knowledgeable, fun, 
Special requirements: Integeration with aXcelerate for course details and bookings
Training with a difference
Wisdom Learning is a specialist training organisation providing training for businesses, government and individuals.
The big standout for them is the quality and individuality of the experience you get.
From the moment you walk in, you can see that this is different from a regular training service.
From the food and drinks to the toys on the tables and the wide variety of guest speakers they invite, Wisdom Learning is a step above when it comes to training.
Features
aXcelerate integration
Blog
Easy to navigate
Feedback
Here is what they had to say about the website creation.
Josie is simply fabulous! She has provided our firm with a functional, fresh and modern website. Josie is knowledgeable in her field, explained the process, offered suggestions and took the time to understand our needs. We cannot put into words the improvement which has occurred from our old website to the current one. We have previously had two websites but the current one we absolutely love! Thank you so very much Josie – we are glad we found you. We highly recommend Josie to anyone needing assistance with website building, SEO, Google Analytics, maintenance and hosting!